Mindset is a way of thinking and formulating, much like the frame around a photograph or painting. It is the outer structure or lens within which everything else is viewed and organized. Your Mindset, positive or negative, will frame the picture. It will also impact your focus, especially if ADD/ADHD is part of your life.

When a person has a positive or proactive Mindset, she/he views situations, challenges or dilemmas differently than one who is already defeated, discouraged and disheartened. This personal perspective can impact your outcome, both ways! So how can begin this process? 1) Start small. 2) Be authentic. 3) Keep an open mind. 4) Don't look back. People with ADD/ADHD can grow in positive self talk, regardles of past inconsistencies. You say it and believe it!
How do you Get Ready, Get Set and Go and keep a positive mindset? Get Ready means getting in position..whether it's a stance, mental preparation, visualization or physical shift. This readiness prepares your physical and emotional states for action. Did you consider your Spiritual mindset? What you could think about that's positive? You are a human being, body, mind, and spirit. Philippians 4:8 gives a list of praiseworthy things.

Students (adult and young learners) who were told that a work task would be hard but they could do the work, were far more successful than those who were told that it would be too hard and it was okay to give up. (They did.) What can enhance your " Get Set" your mindset"? With ADD/ADHD, children and adults can use brightly colored post-its, inspirational quotes, scriptures, or motivational visuals, posters or photos. Different size filing systems, color coding materials and organizational materials like boxes, cabinets, baskets and cubbies give a person needed but adjustable structure. It could be that "less is more" with all of the extra items stored away in a closet or shelves.
Go means Go! You give it your best, not looking back or to the side, but straight ahead.This can be another ADD/ADHD challenge. Think of the "blinders" used when horses race. You may have to clean the slate, erase the board by covering up or minimizing the visual stimuli. This strategy of concentrated focus (for a short period) helps to propel you forward. Mindset impacts outcome! Take smaller steps might mean having an accountability partner, a life coach, and/or inventories of your learning preferences and communication styles.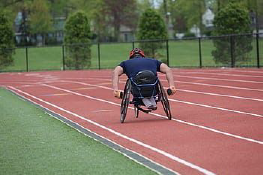 Reach out to me at
[email protected]
for more about Life Coaching. Get Ready...Get Set… Go!